Johnny Hodges
Blues O' Mighty Transcription
Transcriptions Home > Transcription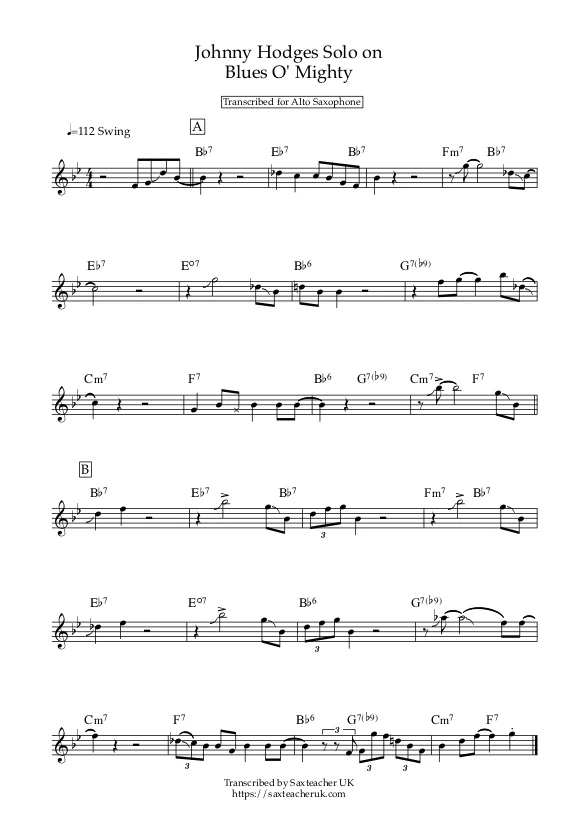 Listen to the recording with the score on Youtube
Download full transcription for Alto Saxophone
Next up in our transcription series of Johnny Hodges solos is his solo on Blues O' Mighty from 'Blue Rabbit.' This album is a rare gem and also features Wild Bill Davis and Kenny Burrell as well as combinations of different rhythm section players: Ray Jackson, Mundell Lowe, Richard Davis, Jack Lesberg, Wendell Marshall, Bobby Donaldson, Osie Johnson. The tune 'Blues O' Mighty written by Johnny Hodges achieved greater recognition when covered by Oliver Nelson on 'More Blues and the Abstract Truth.'


Johnny Hodges' Playing Style
The great Johnny Hodges is one of the most overlooked geniuses of the saxophone when it comes to study. While most players acknowledge the importance of Johnny Hodges' contribution to the history of the music, far fewer have taken the time to study and fully appreciate the range and breadth of his playing. He played with a gentle stillness that belied his immense expressive power. His use of glissandos, breath attack, various articulations and above all DYNAMICS stand out from all others.

These assets should be studied and copied until you absorb them - they can enrich melodic and improvised lines of any style and complexity. Modern jazz vocabulary has largely overlooked this kind of expression. No matter how rhythmically or harmonically complex, an improvised solo needs a tasteful build and direction and emotive control. Johnny Hodges had these strengths like nobody else.
Johnny Hodges Plays the Blues
The Cry
Hodges plays repeated figures in the old style, using repeated rhythmic/melodic statements to build energy and direction with the rhythm section. These repeated Bbs (concert Dbs) on beat 2 set up a call-and-response feel that channels the same work songs that were such a big influence on his long-time bandleader Duke Ellington, as well as the earlier generations of blues musicians. In this tune, these strong melodic hooks give a great opportunity for the listener to be engaged and drawn in. Johnny Hodges has the audience eating out of the palm of his hand when he plays like this. Beyond transcribing this solo, practise emulating this effect. Pick a beat of the bar and play a long note each time with an answering phrase.
Vocabulary
Some beautiful major pentatonic language in this solo, Hodges also makes use of the flattened 3rd falling to the 9th. This old time blues melodic device is set against the organ and guitar giving a 50s R & B feel to Hodges solo.
Glissandos
In just two short choruses, Hodges plays with a range of different glissando techniques. He is the greatest master of the glissando and his mastery is on full display on this solo. Bending notes up and down the glissandos are always smooth and clean. Practise your glissandos by lifting off your fingers slowly. When glissing wider intervals, play a 'scale of glissandos,' blending the join of each note with your embouchure. It takes a lot of practise to get this comfortable on every combination of notes across the instrument.
Free PDF Downloads

Download Full Transcription for Alto Saxophone
Get Personalised Practice Advice
Want to know the best way to practise this transcription, or any transcription you are working on? Save time and practise more effectively? Find out more about Saxophone Lessons on our dedicated page, or click the link below if you're ready to get in touch about saxophone lessons!