Cannonball Adderley Transcription: Straight No Chaser - From Live in San Francisco 1959
Transcriptions Home > Transcription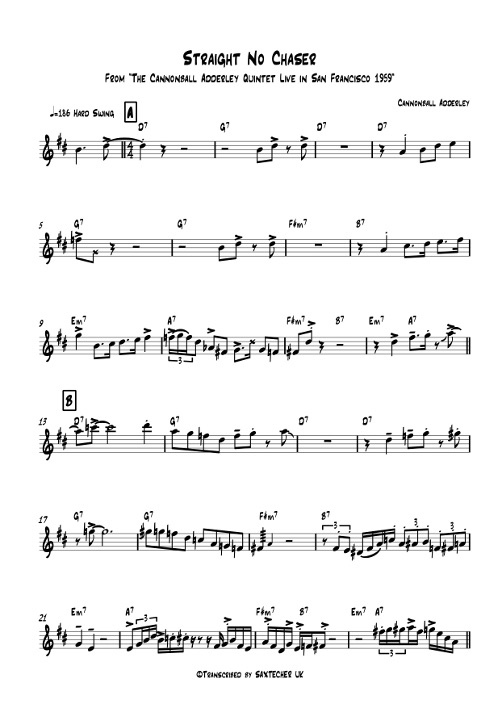 Listen to the recording with the score on Youtube
Please click here for a PDF download of the full transcription
Hey everyone. Here is a transcription of the amazing solo by Cannonball Adderley on the iconic blues Straight No Chaser. This is a great solo full of really exciting punchy vocabulary, imaginative rhythmic content and a great sense of pacing and melodic development.

There is a huge variety of articulation and phrasing in this solo, even by the outrageous standards that Cannonball sets on every solo. He also plays with lots of different feels and rhythmic subdivisions, so there is a huge amount of depth and detail to this solo.


How to Use the Transcription
Remember that transcribing an improvised solo is primarily an aural activity, not an exercise in reading. Always try to do as much as possible from the recording itself, and only use this transcription if you are really stuck on a phrase. If you need a Straight No Chaser Lead Sheet in Concert, Bb or Eb scroll down to the bottom of the page to download.


Articulation
The real depth and intricacy of this solo is in the feel, phrasing and articulation. You'll need to spend hours and hours with the recording to learn this. In the score I've tried to outline the articulation and accents as best I can, but this is really only a rough sketch. His expression with all the different kind of accents - the play between breath control and tonguing - is extremely complex, especially in the 16th note passages. I spent 9 months practising this solo every day, picking it apart and examining all the detail, and I could've spent MUCH longer on it!


Advice on Deeper Study
Here are some pointers on how to really absorb the content in this amazing solo

- Go for depth not speed. It doesn't matter how fast you learn it
- Learn one chorus in detail at a time
- Practise in shorter phrases, gradually making them longer up to a 12-bar chorus
- Really listen to and analyse the phrasing and articulation, try to copy it exactly until you sound exactly like the recording
- Don't worry about speed, play it as faithfully as possible with perfect phrasing and articulation at a speed which is comortable and relaxed
- Learn the meaning behind each phrase, what is its history? What does it mean? What is the musical context?
- Try to imagine how Cannonball was feeling when he was playing this. Practise this feeling as you practise playing the solo
Please click here for a PDF download of the transcription See you soon!
Straight No Chaser Lead Sheet
Please click HERE for a PDF download of Straight No Chaser Lead Sheet in C
Please click HERE for a PDF download of Straight No Chaser Lead Sheet in Eb
Please click HERE for a PDF download of Straight No Chaser Lead Sheet in Bb