Hurricane Blues
Earl Bostic Transcription
Transcriptions Home > Transcription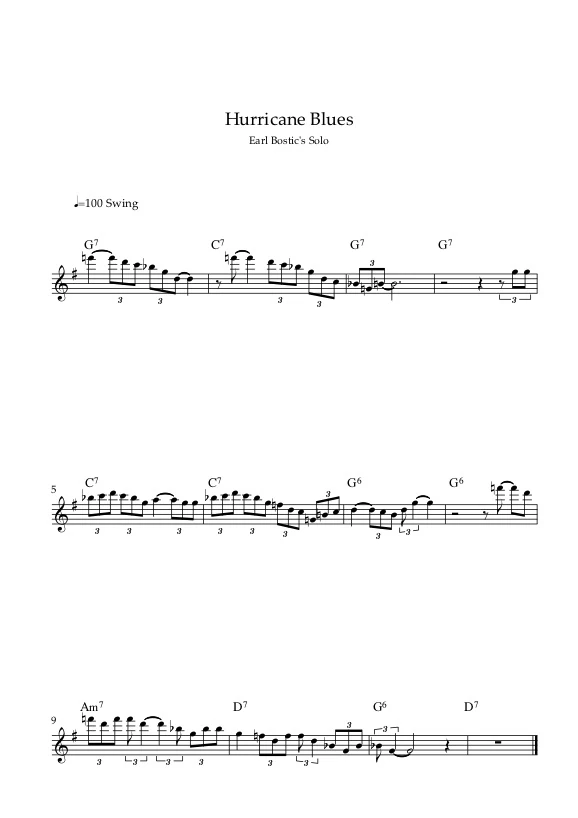 Listen to the recording with the score on Youtube
Download full transcription transposed for Alto Saxophone
Here's another Earl Bostic transcription for you guys! This time an early recording from 1945 with the Lionel Hampton Orchestra. Hurricane Blues is a showcase for Earl Bostic's melodic sense and use of blues language. Listen to the melodic development he uses with 3 distinct phrases in this short but sweet 12 bar solo.
Triplets and 12/8
Listen to how Earl Bostic plays his lines. He plays phrases in 4/4 but all using 8th note triplets. This gives his solo a laid back feel across the beat. His melodic phrases in 2 or 4 played in triplets gives the feeling of 12/8, the Bembe rhythm originating in West Africa that is the foundational element of American Jazz and Cuban music.
Blues Scale
Repeat your Ideas!
Earl Bostic plays very strong blues phrases, originating from vocalists that can be traced back through the roots of African-American church music and work songs. His lines so good he repeats them all, developing and embellishing them the second or third time. Practise playing a phrase and repeating / develop it in this way over a whole 12-bar chorus.
Free PDF Downloads

Download Full Transcription for Alto Saxophone
Get Saxophone Lessons
Want to know the best way to practise this transcription, or any transcription you are working on? Save time and practise more effectively? Find out more about Saxophone Lessons on our dedicated page, or click the link below if you're ready to get in touch about saxophone lessons!