The Best Songs with Saxophone Solos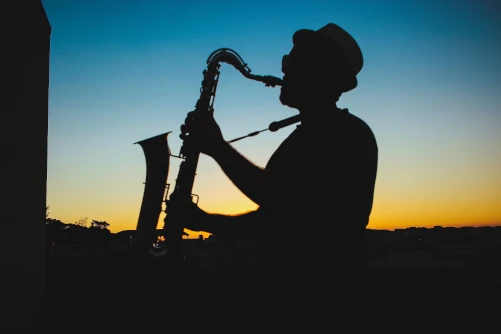 The smooth saxophone sound was a key element to producing some of the most memorable and long living hit songs in pop and rock music. Some songs even have retained their longevity purely because of the saxophone hook or solo! From The Simpsons to Ibiza club music, these saxophone players, famous or not, have left their mark!

This article discusses the top 5 most requested saxophone songs, the players who made them, as well as free downloads of the sheet music for you to learn at home! What is the best saxophone song? Read on to find out more:


1. Baker Street
Saxophone Player: Raphael Ravenscroft
Predictably at number 1, Baker Street is perhaps the only song better known for the saxophone solo than for the song itself! Baker Street is probably the most famous saxophone song of all time, and is definitely the most requested music to learn by my adult students.Raphael Ravenscroft was famously only paid £27 for contributing the saxophone hook for this enduring classic, so every time you play or hear Baker Street, give him a mental nod!

When practising Baker Street, the key is commitment. Play the 'High D' like you mean it at full volume. If you're afraid of it being out of tune, it probably will be! Hit the first and second notes with conviction and don't focus on the glissando! Keep the staccato notes short so there's a good gap between the notes. Don't worry about how the rhythms are written down and how complicated they look, get the notes from the page and the rhythm from the recording!
PDF Sheet Music Download
Click Here to Download the Sheet Music for Baker Street
2. Careless Whisper
Saxophone Player: Steve Gregory
George Michael's 80s hit has such an iconic saxophone theme that it has become an internet meme in it's own right! Played by Steve Gregory, the saxophone interlude on 'Carless Whisper' is still played by young saxophone students to this day, often in inappropriate musical situations! Reminiscent of the melody to the jazz and soul classic 'Cry Me a River,' this hook is as memorable as it gets.

A deceptively hard tune for the aspiring saxophone player, this melody focuses on the 'High C#' - the most challenging note to make a good sound on and keep in tune. Don't overfocus on the C# itself, try to hear it as part of the theme in it's entirety. As you improve at playing this tricky melody, try to listen to your C# and middle D - get their timbre to match as closely as possible to make sure no notes jump out.
PDF Sheet Music Download
Click Here to Download the Sheet Music for Careless Whisper
3. Born to Run
Saxophone Player: Clarence Clemmons
The Bruce Springsteen classic features a classic solo from his longtime collaborator and saxophone powerhouse Clarence Clemmons. This powerful driving solo has the heart to not just stand up to the epic power anthem, but add a finishing touch to this track!

This solo, influenced by another famous saxophone player Boots Randolph of Yakety Sax fame, needs to be played with crisp articulation and lots of diaphragm support to get the full fat sound Clemmons was able to achieve on these high notes.
PDF Sheet Music Download
Click Here to Download the Sheet Music for Born to Run
4. Money
Saxophone Player: Dick Parry
A major hit from Pink Floyd's 'Dark Side of the Moon,' Money is one of two tracks on the iconic album to feature saxophone. The tune of Money is in 7/4, an unusual time signature, and unlike the guitar solo that follows, the sax solo is also in 7/4. Dick Parry plays gesturally in this solo, adding to the overall effect of the track.

This is a challenging solo to read, as Parry plays openly and loosely. My advice for practising this is: get the notes from the sheet music and copy the rhythm from the recording. Play along with the solo over and over again until you can play it right. If you need to, use a speed adjusting app like, 'Amazing SlowDowner,' or 'Transcribe!'
PDF Sheet Music Download
Click Here to Download the Sheet Music for Money
5. Just the Two of Us
Saxophone Player: Grover Washington Jr.
Widely acknowledged by saxophonists as one of the pop sax greats, Grover Washington Jr. composed this hit track featuring the great Bill Withers. A great song and a great solo, this is by far the most in-depth and intricate solo on this list. For intermediate players have a look at the instantly recognisable interlude, which I've also included on the download. The solo is definitely for advanced players only!

Grover Washington Jr.'s solo is a snapshot in time, a pop masterpiece of sax solos in this period that has been copied and adopted by every generation of pop sax player since. Grover uses the whole range of the horn in this solo and mixes up pentatonic phrases with advanced chromatic jazz harmony. The solo has a masterful build and paced melodic development! Dive right in!
PDF Sheet Music Download
Click Here to Download the Sheet Music for Just the Two of Us
Need Help With Practice?
The sheet music is a great start, but there's so much more to it than the notes on the page. If you want support just visit our Saxophone Lessons Page to find out more, or click the link below if want some bespoke advice on practising these solos