Cherry Red Blues
Eddie Cleanhead Vinson Transcription
Transcriptions Home > Transcription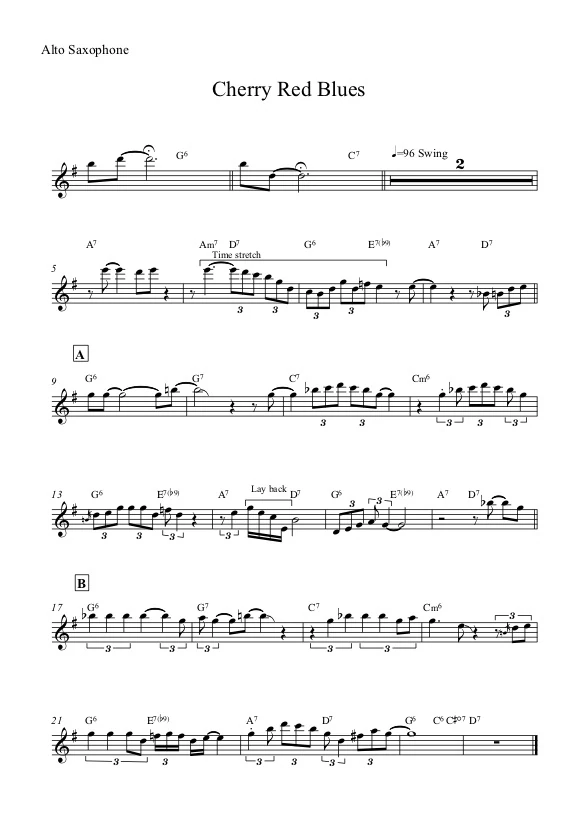 Listen to the recording with the score on Youtube
Download full transcription transposed for Alto Saxophone
After a long hiatus, we are BACK with a new inspirational figure for study, Eddie Cleanhead Vinson. This transcription is of his solo on "Cherry Red Blues," the hit recording from 1944 with the Cootie Williams Orchestra.

This solo showcases Cleanheads incredible sound. Even with the poor recording technology available at the time, you can hear the raw power in emotion in Cleanhead's sound. This is a great showcase for his upper register, in which you can hear the influence of clarinet and soprano master Sidney Bechet. It's also interesting to compare his playing approach with his contemporary Earl Bostic, who was our previous study subject. Compare Cleanhead's solo on "Cherry Red Blues" with Bostic's "Hurricane Blues" here.
Lineage
Listen to the similarity of approach to Earl Bostic on Hurricane Blues. The palm key sound is FAT! So powerful and in tune full of depth and colour in phrasing. This beautiful saxophone playing was seeded by Sidney Bechet, the first great saxophone innovator. Cleanhead and Bostic clearly listened to Bechet and took on board what spoke to them personally. This lineage is super important in the development of alto saxophone playing. Bostic was in turn a great influence on Charlie Parker, and Cleanhead the corollary to Cannonball Adderley. Studying and unpicking this beautiful historic lineage is key to developing a practical understanding of the history of the music.
Vocal Inflections
Become the singer!
Cleanhead is a great musician to study on the point of phrasing and melodic inflections because he showcases his immense skill as a blues vocalist. On "Cherry Red Blues" you can hear a brilliant example of his singing rich in blues and country music inflections. Many of these inflections are transposed onto his instrument and enrich the emotional impact of his playing. Could there be a greater masterclass in learning to phrase melodies on the saxophone? The lesson is clear - learn to sing the solo (even his vocal renditions) and copy the phrasing exactly, before learning it on your instrument. Take on the role of the singer and play a solo that can connect with an audience with the raw power that only a human voice can!
Free PDF Downloads

Download Full Transcription for Alto Saxophone
Get Saxophone Lessons
Want to know the best way to practise this transcription, or any transcription you are working on? Save time and practise more effectively? Find out more about Saxophone Lessons on our dedicated page, or click the link below if you're ready to get in touch about saxophone lessons!