Ben Webster Transcription
How Deep is the Ocean Sheet Music
Transcriptions Home > Transcription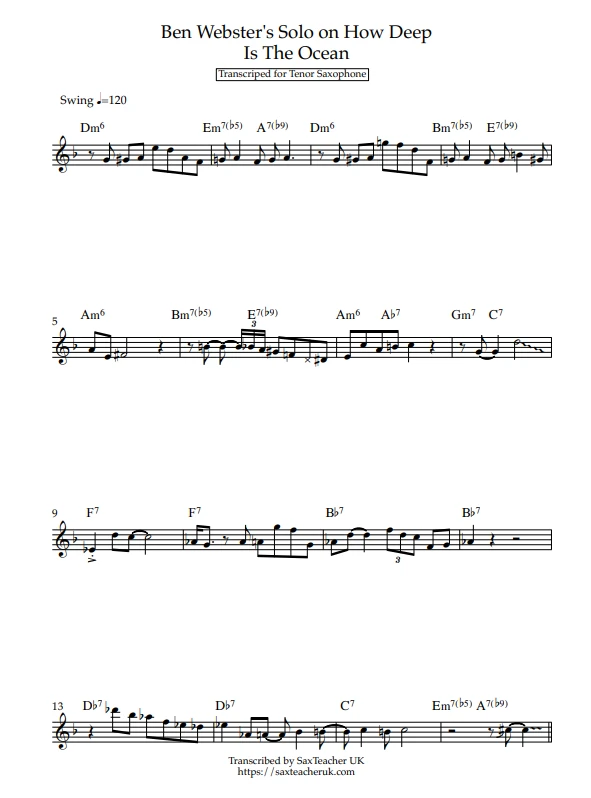 Listen to the recording with the score on Youtube
Download full transcription for Tenor Saxophone
Download full transcription transposed for Alto Saxophone
After a long hiatus, we are back with another Ben Webster Transcription; this time, Ben is playing "How Deep is the Ocean?" with the Oscar Peterson Trio. Download free sheet music of the transcription in PDF format and get practising today!
Ben Webster's Setup and Sound
As mentioned in our previous tutorial, Ben Webster's sound owed a lot to his extreme and unique saxophone setup - a very open mouthpiece with hard reed, combined with a very wide open key action on the instrument. In spite of this extreme set up, Ben is clearly able to articulate and shade his melodic phrases with immense subtlety and a huge palette of colours.

Practise playing along with Ben every day and try to copy his sound as closely as possible, all the detail, glisses, lip slurs, articulation and breath attack. Whatever your setup you will be learning to comminicate a phrasing language of extremes - subtle shade, delicate beauty and fiery intensity. Remember, you're in this for the long haul, keep playing and listening and you will be amazed at the layered complexity of phrasing in this seemingly simple solo.
Ben Webster's Vocabulary
Dominant 13th Language
Two fantastic examples of how Ben Webster played diatonically over dominant chords, using both the angular approach favoured by Lester Young (see our transcription of Way Down Yonder in New Orleans), seen in Bar 9, and the use of the major pentatonic scale as in bar 13, allowing the rhythm section to play the harmony and using strong melodic structures to reach the higher extensions of the chord.
Dominant Flat 9 Chords
Bar 6 is a great example of how to resolve a dominant flat 9 chord (acting as chord V) to a minor 6 chord (acting as chord I). Reminiscent of the way Parker played these lines, it shows how the language of jazz feeds back and forth through the generations. Get a hold of some of these phrases for a neat yet melodic way to outline the voiceleading of this common progression.
Minor Chords
Ben makes distinct use of different vocabulary for minor chords, distinguishing whether they are functioning as chord I or chord II. Also note the use of the minor 6th (as in bar 5) as a melody / colour note. Contrasting with the flattened 6th over the minor dominant chords. This interesting contrast can teach you the difference between the 6ths, which requires a degree of intuitive understanding.
Free PDF Downloads

Download full transcription for Tenor Saxophone
Download full transcription transposed for Alto Saxophone
Get Personalised Practice Advice
Practising a transcription is an art, and getting every detail is a skill that takes a lifetime to develop. Take a shortcut by taking a lesson with SaxTeacher UK on how to practise the transcription to suit your personal needs. Find out more about Saxophone Lessons on our dedicated page, or click the link below if you're ready to get in touch about saxophone lessons!